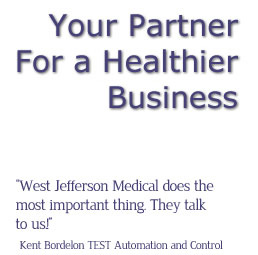 Occupational Medicine from West Jefferson Industrial Medicine.
West Jefferson Industrial Medicine specializes in the healthcare of employees. This allows us to effectively manage the concerns of the business community allowing us to be more of a business partner than a vendor. Our doctors are hands-on professionals who freely share knowledge and advice, and who bring incredible value to the business relationships they have.

West Jefferson Industrial Medicine is an occupational medicine provider. We are flexible, accessible, and close by, with two offices – Wall Blvd in Gretna & West Bank Expressway in Marrero, we can serve the business community more effectively and efficiently.
Office Update COVID-19
March 22, 2020
Beginning Monday March 23rd West Jefferson Industrial Medicine will be open Monday – Friday 8 am – 5 pm until further notice. Additionally not all normal services will be offered. Please contact our office staff for more information.
Kind regards,
Dr. Brian Bourgeois, Owner
Novel coronavirus/COVID-19 Update
March 10, 2020
West Jefferson Industrial Medicine now can test patients for the novel coronavirus in our office. Specimens will be collected in the office after examination by the provider. Results are expected in 3-4 days. If you our one your employees believe they may be infected, please call our office in advance and we will plan for testing.
To reiterate what the CDC has said, the risk to exposure for those living in the United States is low and most of those infected will present with mild cold and flu like symptoms. Please visit the CDC website https://www.cdc.gov/coronavirus/2019-ncov/summary.html for regularly updated information.
Kind regards,
Dr. Brian Bourgeois, Owner
West Jefferson Industrial Medicine
504.433.5070
Novel coronavirus/COVID-19
March 2, 2020
The novel coronavirus (which causes a disease known as COVID-19) has infected some people in the United States. Most of those cases have been associated with travel to China or other at-risk areas. While the potential public health threat posed by this coronavirus is high, the individual risk depends on exposure, according to the Centers for Disease Control and Prevention at https://www.cdc.gov/coronavirus/2019-ncov/index.html . For the general American public, the likelihood of exposure to the virus is minimal and the immediate health risk from this coronavirus is considered low. The CDC studies and tracks multiple illnesses very year. Their experience and expertise is considered the gold standard.
Coronavirus usually causes an upper respiratory tract illness like the common cold. Patients with this new coronavirus have had mild to severe respiratory illness with symptoms of fever, cough, and shortness of breath according to the CDC at https://www.cdc.gov/coronavirus/2019-ncov/about/symptoms.html. The great majority of individuals, over 80%, have had a milder version. Some cases have little to no symptoms whatsoever. In the cases of elderly, infirmed, and chronically ill individuals, this virus does have the potential to cause a severe respiratory illness. This fact is similar to influenza, or the common flu.
It's still cold and flu season, and the same practices that stop the spread of these common illnesses are recommended:
Wash your hands often with soap and water for at least 20 seconds.
Avoid touching your eyes, nose, or mouth with unwashed hands.
Avoid close contact with people who are sick.
Stay home if you are sick, except to get medical care
Cover mouth and nose when you cough or sneeze. Throw the tissue away and wash your hands.
Clean and disinfect objects and surfaces you touch.
Use hand sanitizers with 70% alcohol concentration
These practices should be routine at any time of the year and in everyone's household and work environment
There is no specific treatment for coronavirus. Most infected people will recover on their own without the need for in hospital treatment. If you, a family member, coworker, or employee have traveled recently to an area of risk (https://www.cdc.gov/coronavirus/2019-ncov/travelers/index.html), or if you think you may have been exposed to the virus and have symptoms of respiratory illness, you should  contact your health care provider for further instructions.
Thank you,
Dr. Bourgeois, Owner
West Jefferson Industrial Medicine
504.433.5070
Specializing in the healthcare of employees by providing the business community with:
Cost Savings
Control of Lost Time Incidents
Improvement of Productivity
OSHA compliance
All Applicable State and Federal Standards & Regulations
Occupational Medicine
Occupational Health aims for the promotion and maintenance of the highest degree of physical, mental and social well being of workers in all occupations; the prevention among workers of departures from health caused by their working conditions; the protection of workers in their employment from risks resulting from factors adverse to health; placing and maintenance of a worker in an occupational environment adapted to his physiological and psychological equipment. In sum, the goal of Occupational Medicine is the adaption of work to people and of each person to their job.